Click Here to Request a Quote for Your Next Golf Outing!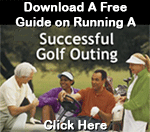 Sandy Ridge Golf Course offers challenging golf at an affordable price which allows you to either maximize your fund raising efforts or minimize your companies cost for "team building". We can accommodate up to 288 golfers in one day. Whether you are hosting an outing, tournament, charity or corporate event our experienced staff members are trained and ready to help make your event a success. We are proud to host many community charities, corporate and association events, and local tournaments. We also host golf outing seminars on "How to Maximize Your Golf Outing Profits" and are ready to show you ways to double, triple, or quadruple your golf outing profits. Please contact Denny Milliman at 989-631-6010 or denny@golfsandyridge.com. This is what our customer's are saying:
"Sandy Ridge offers the complete golf outing package. They take our outing on as their own; sharing ideas for filling the field, offering proven fund-raising techniques, and committing to our success. In addition, the staff's professional attention to detail allows us to focus on our guests the entire day, rather than logistics. From fundraising to the after-party, Sandy Ridge is a complete package.
Carrie Iafrate
Vice President of Marketing
Members First Credit Union
Options for your next outing, charity, tournament, or corporate event:
Shotgun format available.
Can accommodate 180 people on our covered deck. 288 golfers in one day.
Can provide lunch, dinner, and beverage services.
Can assist in organizing special event holes (closet to pin, longest drive, betting holes...). Hole in one insurance or golf signs.
Personalized cart signs and scorecards.
Special Considerations
Prices are based on group size and date of event; minimum attendance is required for group services and discounted prices.
Groups must allow for 4 1/2 - 5 hours to complete shotgun event.
All Alcoholic Beverages must be provided by Sandy Ridge Golf Course, Michigan Liquor Commission Regulations.